Building a new home? Renovating your existing bathroom or ensuite? Here are a few key tips to keep in mind as you navigate the journey and ensure you make the most out of your new space.
Tip One – Less is more
A nice, clean and modern design will stand the test of time. Make the most of your space and maximise open zones to give your bathroom or ensuite a more spacious feel. Use of lighter tones cabinet tones, paint and tiles can also help make a space feel larger. Add a splash of contrast by using a bold tone in just a few key areas of your room.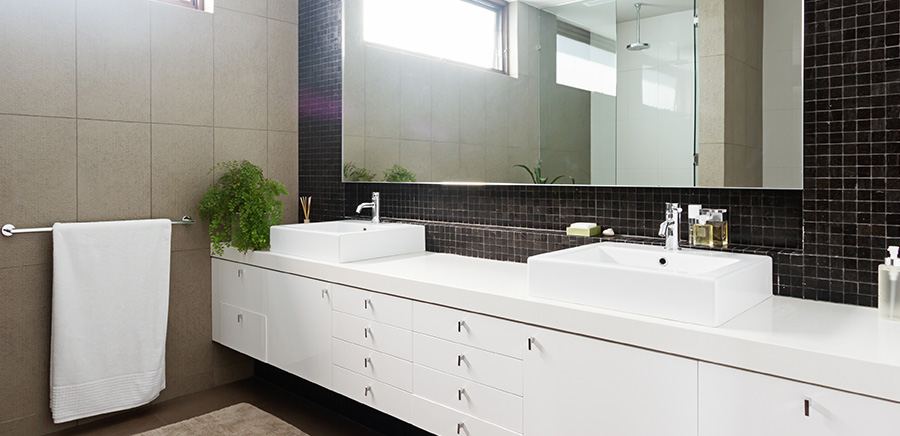 Tip Two – Storage is key
Bathrooms are notoriously smaller areas where good storage solutions are essential. Consider the items stored in your bathroom currently and create a space for each item. Utilise a mix of drawers, cupboards and shelving zones to organise items from bottles and jars to make-up and toothbrushes with easy-grab zones for towels and washers.
Custom built cabinets in your bathroom or ensuite is the best way to maximise your space. No matter what size or shape you require to fit it can be achieved and allow your space to be clutter free. Floor to ceiling cabinets can not only make use of every inch of space but can also make your room feel more spacious. Clever fittings make it easy to reach tricky areas also.
The basin you choose will often impact the space you have under the sink so choose wisely allowing for the basin, plumbing and connections.
Tip Three – Lighting
Capturing good light in your bathroom is essential. Not only will this help with visibility but it can also style your room design. Make the most of natural light but if this is limited (or non-existent) consider lighting effects which may include ceiling and cabinet backlighting or spotlights. If you are considering adding lighting effects to your cabinets please discuss this during the design process so allowance can be made to accommodate the electrical elements.
Don't go overboard with lighting. It is a fine balance to achieve the right finish.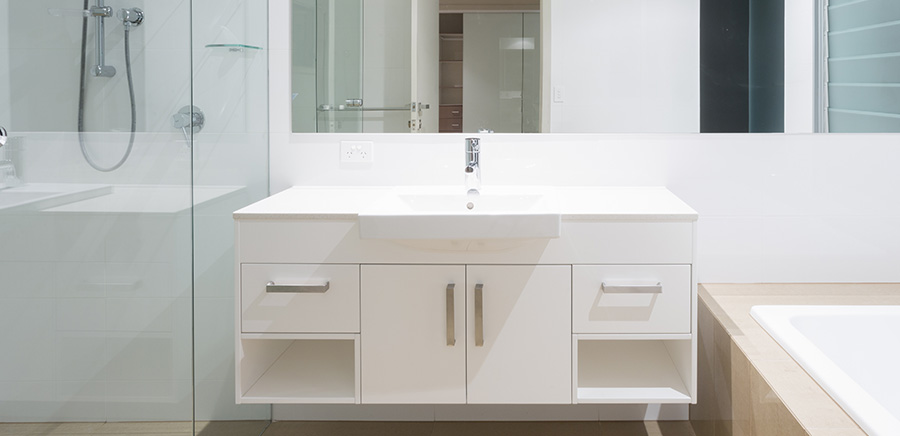 Tip Four – Big mirrors
Big mirrors help smaller spaces feel larger. They are also a practical addition to any bathroom. Be mindful that while mirrors can drop to sit on top of the cabinet and basin areas but can cause some splash-back adding to the cleaning quota. A 200mm strip of tile is commonly added between to avoid these issues and depending what type of basin you have it may require a seal up against the splash back tile.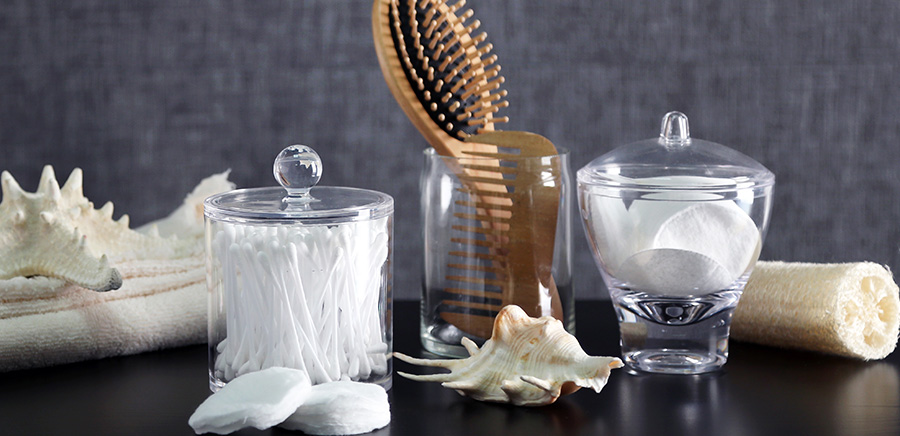 Tip Five – Style your essentials
Up-style your commonly used items such as soaps, hair brushes, cotton tips and toothbrush by displaying in glass containers and decorative vases. It can instantly transform your space leaving these items within arms reach.